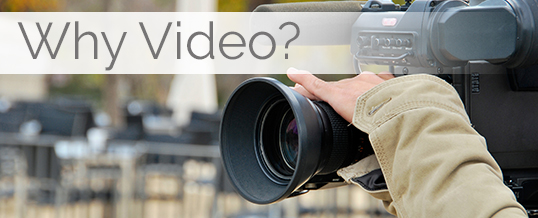 It's time to go all in with Video Marketing so powder your nose, clear your throat and get ready for your close up!
As a proven marketing tactic for businesses of all sizes, web video is the fastest growing digital marketing tool and the results don't lie! Whether it's nestled in an e-mail blast or featured on your web page or Company Youtube page, when it comes to digital marketing, there is little doubt, Video Is King.
Higher click-through rates, improved organic SEO and dramatically higher consumption rates are just a few of the reasons you might want to consider utilizing video as a key part of your marketing strategy. Here's the deal: Video will account for nearly 3/4 of the world's internet traffic by 2017 (), and while it is widely accepted as the content with the best ROI it is also vital to note the less tangible things a superior video product can help with.

Not only will video marketing serve to increase your digital footprint but it will also assist in building your brand. Thoughtful and purposeful video production can increase public opinion, showcase a company's culture and provide credibility. However, if you post a video that is lacking in quality or not very well thought out, it can actually do more harm than good to your brand.
If you aren't sold on using video marketing in your marketing efforts take a peek at this info-vid and ask yourself if you or your company can afford to be left behind.
Share