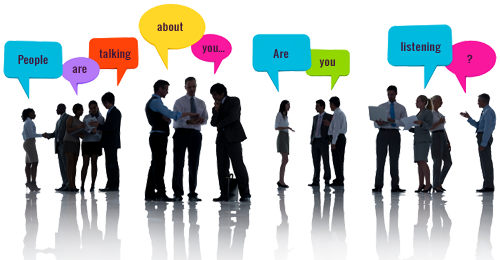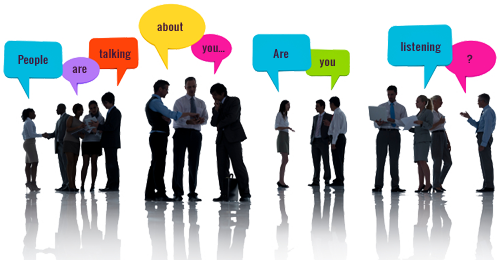 What are they saying?  How will you respond?
With the emergence of Social Media over the last several years, businesses and brands of all sizes have found themselves at a crossroads.  People are talking on-line more than ever about your brand… but what should you do about it?   Ante up and get in the game?  Or hope that it's just a fad & will simply go away?   For those that choose to stay on the sidelines, it's time to wake up and LISTEN to the one thing that can and will determine the success of your company…  your customers.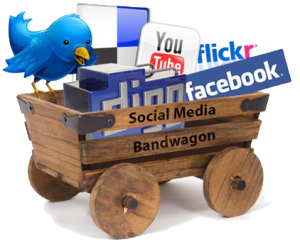 Social Media is here to stay, whether we like it or not.  That doesn't necessarily mean Twitter or Facebook will be here forever… they could (and likely will) someday find themselves looking up at the next great social network.  Of one thing we can be certain, Social Networks will always be a part of our culture in some way, shape or form and, consequently, will continue to forge consumer behavior.   What does that mean to you?  It means that in order to succeed in this new economy, social media now requires a real business strategy.
How can we help?
ProV3 Media can help you intimately understand Social Media and how effective it can be in getting a leg up on your competition.   We have literally 'lived and breathed' the Social Network revolution and we understand what it takes to succeed in the new economy.  Yes, there are many tools & tricks that can certainly help develop and execute a good Social Media Marketing campaign, and we use many of them.   But positive results will come more from listening, and knowing how and when to interact with your customers than from simply pushing content.  This is where ProV3 differentiates from our competition, we are passionate about listening and engaging, which is key to your brand getting social 'the right way.'    There is something truly exciting about being on the bleeding edge of a real cultural shift that will, undoubtedly, change the way our world conducts business.  And we can confidently say this because no brand, no matter how big, will survive if they don't embrace Social Media.  Write it down.
Enough prophesy, let's get back to how we can help you and your company.    At ProV3 Media, we believe in building brand advocates, not simply brand followers.  Would you rather have 1,000 people (or fans) that don't really even know what you do or what you sell…   or  FIVE  'actionable' fans that believe so strongly in your brand, that they spend their own valuable time sharing with their friends how much they love you or your service?   That's an easy one.
This is the core of what we do at ProV3 Media… we BUILD BRAND ADVOCATES through Social Media.   We would love the opportunity to show you how we do it, using low cost, sustainable tactics, combined with powerful and easy to use listening and engagement tools.   Contact Us to set up an appointment, we'd absolutely love to learn more about your business and develop a Social Media strategy that supports and aligns with your company's growth objectives.